Lanna Brown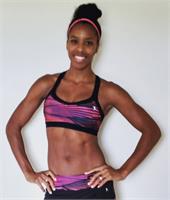 Lanna Brown instructs the following:
Cardio Flex is a new addition to LifeWorks offerings! Taught by Lanna, this class offers fast moving, beat bopping, cardio-strength option for our LifeWorks community. It is a class where you will move, groove, sweat and work on increasing cardiovascular endurance and total body strength! Focusing on full body movements, muscle group isolation, resistance training and more, this class poses challenges to all.

*Although it is open to bare feet training, it is recommended you bring in a pair of (non-street) sneakers for class!




Fitness trifecta of pilates, yoga, and a little bit of Ballet floor barre, this class sculpts and strengthens the body like no other. Students are quickly guided through a variety of sets involving small, repetitive movements to work the entire body.




Bounce your way to a stronger and more flexible body while performing Pilates movements on a large stability ball. This fun whole body workout especially challenges core muscles, leading to better alignment, strength and comfort throughout your body!