Nina Echegaray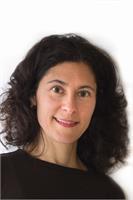 Nina was born and grew up in New York City. She trained from the age of nine at the School of American Ballet in New York, and performed regularly in children's roles in many of New York City Ballet's productions, including 'Nutcracker,' 'Midsummer Night's Dream,' 'Coppelia,' and 'Harlequinade.' In 1984, she moved to San Francisco to join the San Francisco Ballet. She left San Francisco in 1991, first for France where she danced with Le Ballet du Nord, and then Montreal where she danced with Les Grands Ballets Canadiens, retiring in 1996. While a student at SAB, she trained extensively in classical Pilates with the late Romana Kryzanowska, one of Joseph Pilates' early students and his designated successor. Nina also teaches yoga, and is certified in the Iyengar method, having trained in Paris with M Faeq Biria, one of BKS Iyengar's leading disciples in the West. She has taught yoga in New York, London and Melbourne, Australia. She lives with her husband and two daughters in Great Barrington.
Nina Echegaray instructs the following:
This class offers an introduction to the joy of Iyengar yoga, known, among other things, for its attention to correct alignment and careful sequencing of asanas. The class will be a beginner's (Level I) class, but would also benefit practitioners seeking an introduction to the Iyengar method.




This is a more advanced, and vigorous, Iyengar class, and will assume at least 12 months' experience of some form of yoga, not necessarily Iyengar. Inversions – headstand and shoulderstand – will be taught, as will linked sequences of asana (vinyasa). As the class progresses, introductory pranayama will also be taught.