Karlee Fain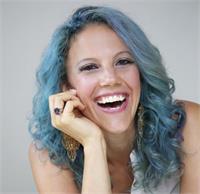 Karlee Fain is a Celebrity Health/Life Coach, Author, and Speaker getting back to her soulful Berkshire roots.
When she's not coaching clients one-on-one, she's here at LifeWorks mixing her 25 years of doing yoga with all the heart and creative movement styles she's picked up in her a-list tours 'round the globe. Join her for the chance to combine ancient technique with new skills, igniting the parts of you that are done just "getting by" and are ready to really THRIVE with a TRIBE of people that get it.
Get Karlee's FREE Guided Meditation to help you stay on your a-game between LifeWorks classes at EveryBodyThrive.com.
Karlee Fain instructs the following:
This is where Berkshire women go to get a mental vacation, and a vacation ready body, at the same time. We sweat, tone, cardio and stretch for power and flexility in and outside of class. It's challenging and enlivening and no prior experience is needed.




A new yoga-based spin on movement for folks that want to sweat, stretch and deeply relax from the inside out. This class is where busy people come to unleash new levels of health, reset their mental game and get clarity for the next steps in your life on and off the mat. Discover how amazing and capable you are as you step back into the driver's seat of your body and spirit.