Jenna O'Brien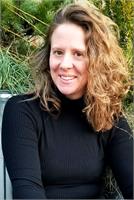 As both a professional horticulturalist and yoga instructor, Jenna understands that she needs to keep her working body working well. She began studying breath centered yoga and yoga anatomy in 2002. Her professional training with The Breathing Project in Great Barrington, MA and NYC spoke to her intuitive understanding that each individual's unique body dictates his or her practice in that the breath is a common thread we all share. Her love for the practice quickly blossomed into the desire to share it with others. To learn with Jenna is to cultivate your own practice, a sense of wellness and a healthier lifestyle. A typical class includes flowing movement paired with breath-awareness and chanting.
Jenna O'Brien instructs the following:
Give your body a tune-up! Learn to use yoga therapy props, safe movement, and breath to heal your body and stay well. This class is for all levels of yoga and movement experience, including beginners.




Engage with Breath-Centerd Yoga is for all levels. Learn how the breath can enhance your asana practice. This (mostly standing) practice is designed to set your weekend off on the right foot.