Andrea Blacklow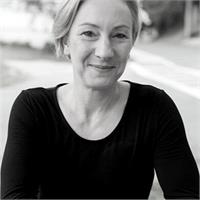 Andrea Blacklow's early training in the arts began in the summer youth dance program at SUNY Brockport Dance Department, and at the Student Preparatory Program at Eastman School of Music for harp and percussion. She attended Interlochen Arts Summer Camp and Interlochen Arts Academy in Northern Michigan. She then went on to Bard College, NYC, studying with Albert Reid, Aileen Pasloff, Lenore Latimer and Jean Churchill, and graduated in 1992. While dancing and choreographing at Bard College, she was a teacher for the Bard's Youth Theatre/Dance Programs, instructing young artists through creative movement, dance technique, and composition. Andrea participated in the theatre department as the Assistant TD and wrote her senior thesis in Anthropology on Arts Education. She was a dancer for nine years with the Ellen Sinopoli Dance Company, resident company of the Egg in Albany, New York. As a member of ESDC, Andrea was one of the Arts-In-Education performers for the company's outreach workshops in New York State's Capital Region. Her 25+ years as a professional dancer and teacher has brought her to Seattle, Albany, and the Berkshires.
Currently she is working on creative works for her newly established performing company, Moving Arts Exchange, and is leading a new wave of seasoned dancers to the stage.
Andrea Blacklow instructs the following:
High-intensity workout disguised as a dance party! This internationally popular fitness program burns calories by combining dance moves from around the world to catchy music. No dance experience necessary, just the desire to sweat while you party the hour away!




This Zumba class is designed to introduce you to the world of Zumba by breaking down the steps.

High energy recreational dance workout set to latin, hip hop, african, pop and international beats. The class is structured in a watch and follow format and the combinations are repeated often enough for everyone to learn them. No dance or zumba experience is necessary, just the desire to move!

Come have fun while learning dance steps from around the world and giving your body a great aerobic workout.

· Moves and pacing to suit the needs of the beginner and individuals seeking a lower intensity class.
· Experience with dance is not required. Moves in class are broken down in a slow and manageable manner and allows for more time to learn the steps used in the Zumba program.
·Strives to improve balance, strength, flexibility and coordination.




Fitness trifecta of pilates, yoga, and a little bit of Ballet floor barre, this class sculpts and strengthens the body like no other. Students are quickly guided through a variety of sets involving small, repetitive movements to work the entire body.